Silver Flash is our second Joomla! template. This template is based on a black and silver colour scheme with gradients and shadows, featuring red and orange colour spots as a highlight, which gives the template a modern and fresh look. Silver Flash features a multitude of module positions for a flexible site layout: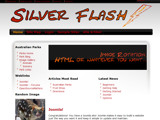 Top - The position for the main navigation
Left - A sidebar on the left side for menus and modules
Banner - For the banner component or similar
Footer - For copyright-information or links
User 1 - The black border at the top of the page, ideal for flat modules like log-in or links
User 2 - At the upper right corner for search box or similar
User 3 - A full width position for sliders, rotation or static images
User 4 and 5 - Ideal for "Latest News" or "Most Read" modules
Just like our Really Simple template, Silver Flash features a drop-down menu using the jQuery. To achieve even better compatibility it is possible to deactivate the loading of the jQuery library (Only needed with Joomla! 2.5) in order to use other components' or modules' libraries.
The template also features parameters to quickly adjust site logo or name without any technical knowledge. Your site will be up and ready to go within minutes!